Cognos 8 Business Intelligence installation and set up guide
This tutorial shows a few easy steps to get started with cognos 8 BI.
The easiest and quickest installation process goes as follows:
Install Cognos 8 BI Server and a service pack if available – this is the core of cognos BI system.
Choose a database server which will be used as a content store. Cognos 8 supports a wide range of database engines.
Start cognos configuration and set up a connection to the database which will serve as a content store. This is usually the most important option to set up.


Configuration fom Microsoft SQL Server as Cognos content store:

Adjust other options if necessary, save configuration and test the content store connection.
Start the cognos 8 service using Cognos Configuration
Now it is required to configure the Web server. Microsoft IIS web server is used in the following tutorial.


Web server configuration steps
Create the following virtual directories:
cognos8 - c8_location/webcontent with read permission
cognos8/cgi-bin - c8_location/cgi-bin with execute permissions
It is recommended to use cognos8 as the alias name. Otherwise the Gateway URI option will need to be changed in cognos configuration.
A sample IIS configuration is depicted below:

Configuration of Cognos 8 on Microsoft IIS:
A correctly installed and configured Cognos 8 BI installation shows the following welcome page in a web browser on the
http://localhost/cognos8/
web address.
Properly configured Cognos 8 instance: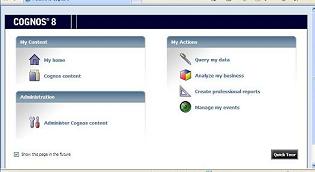 Once the screen shown above appears, the IBM Cognos 8 BI is set up correctly and ready to use.
We suggest you start with publishing some Cognos examples using Framework Manager (gosalesdw - great outdoors sales data warehouse) and then play around with Cognos Query Studio, Analysis Studio and then Report Studio.